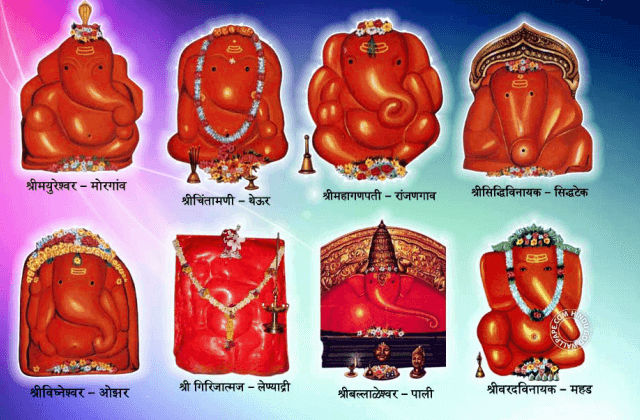 Pune to Ashtavinayak taxi, cab service
In Sanskrit, Ashtavinayak means eight forms of Lord Ganesh. It is a very religious and sacred place where you can visit eight different forms of Lord Ganesh in different places. It is actually a three days trip and the actual distance from Pune is 950 km. For more details visit our website or call us on 919623798119/ and choose Pune to Ashtavinayak Cab services.
Here are few things to do in Ashtavinayak :
1. Moreshwar Temple
In the Ashtavinayak yatra, the first temple to visit is Moreshwar temple or the Mayureshwar temple and was constructed during the period of Bahmani rulers. In 1347 Alauddin Hasan discovered this kingdom. A unique feature in this temple is the statue of Nandi. It is at a distance of 55 km from Pune and is situated near the Karha river.
2. Siddhivinayak Temple
On a simple hillock, there is a place called Siddhitek where you can find the second temple called the Siddhivinayak Temple and it is very famous and recognized temple of the Ashtavinayak. You need to go around the hillock for making a pradakshina over here. It is situated on the Pune Solapur highway.
3. Ballaleshwar Temple
The name Ballaleshwar was given in the honor of the child devotee name Ballal who was saved by Lord Ganesh from the villagers. On either side of the temple, you can find two lakes and you can also find a mouse statue near Lord Ganesh. This temple is constructed by stone and the sanctum sanctorium is beautifully designed over here. It is located on the Mumbai Pune highway.
4. Varadavinayak Temple
The main purpose of visiting this temple is for attaining sheer success and the temple is called as Mahad. On the four sides of the temple, you can find four elephant idols. You can also find some unusual designs of Cobra over here. There are no priests over here and anyone can personally visit this place without restriction. It is just 3 km away from the Mumbai-Pune highway.
5. Chintamani Temple
At Theur you can find the fifth temple of the Yatra called the Chintamani temple and you can also find kadamteertha lake nearby. It is situated 22 km from the Pune.
6. Girijatmaj Temple
This temple was constructed at Lenyadri. It is not a temple but actually a carved cave. There are no pillars and it has been carved of a single stone. There is no much design or decoration of the idol over here. It is 94 km away from Pune.
7. Sri Vigneshwar Vinayak Temple
It is situated at Ozar and the idol has statues of Riddhi and Siddhi on either side and this temple faces the East and the surrounding ambiance is built by thick stone walls. The length of the temple is almost 20 feet and the inner hall of the temple is almost 10 feet. It is quite near to the Pune- Nashik highway and is located on the river banks of Kukadi.
8. Mahaganapati Temple
The stone sanctum and sanctorium of this temple was built by Peshwa Madhav Rao 1 and here you can find Lord Ganesh seated on lotus along with Riddhi and Siddhi. A complete yatra of Ashtavinayak is considered when the pilgrims reach back to the Moreshwar Temple.
The best quality we provide
If you visit this place you will definitely enjoy an eternal bliss and will get a break from the hectic city life. Our best professional drivers will help you to reach this place quickly and this entire trip is actually a 3 days yatra.
For more details visit our website and get to know about our services and special packages that we offer for the travel and you can reach us anytime during the day as we provide 24 x7 services for you. Our service is not just limited to Ashtavinayak darshan as we also provide services to other destinations like Trimbakeshwar, Imagica, Mumbai, Shirdi, Lonavala, Lavasa, etc.
We do provide full safety and security to our customers along with luxury.
Pune to Ashtavinayak Cab service | Pune to Ashtavinayak Taxi service | Book Pune to Ashtavinayak Taxi, Cab service | Ashtavinayak Darshan Cabs / Taxi from Pune Service low cost
| Type of Car | CAPACITY | TWO DAYS PACKAGES (600 km) | 1,2,3 DAYS PER DAY 300 km OUTSTATION | Per Day Driver Allowance | Book |
| --- | --- | --- | --- | --- | --- |
| Hatchback | 4 + 1 | 9500 | 11 per km | 300 | Book Now |
| Dezire, Etios, Excent | 4 + 1 | 10500 | 12 per km | 300 | Book Now |
| Tavera, Xylo, Ertiga | 6 + 1 | 12500 | 15 per km | 300 | Book Now |
| Tourist Special Innova | 6 + 1 | 14500 | 17 per km | 300 | Book Now |
| Innova Crysta | 6 + 1 | 17000 | 20 per km | 300 | Book Now |
| Tempo Traveller | 13 Seater | Non A/C 20000, A/C 24000 | Non A/C 25, A/C 30 | 400 | Book Now |
| Tempo Traveller | 17 Seater | Non A/C 21000, A/C 25600 | Non A/C 26, A/C 30 | 400 | Book Now |
| MINI BUS | 27,32,50 SEATER | On call | On call | 400 | Book Now |
Book Now