Elevate Your Corporate Travel Experience with Nathkrupa Travels' Innova Crysta Cab
Welcome to Nathkrupa Travels, your trusted partner in providing top-notch Innova Crysta Cab services for corporate offices and business events in Pune. Our tailored solutions cater to corporate cab services, monthly cab rentals, and seamless online bookings, ensuring your employees and clients travel in comfort and style. Discover the difference of traveling with Nathkrupa Travels, where we elevate your corporate travel experience.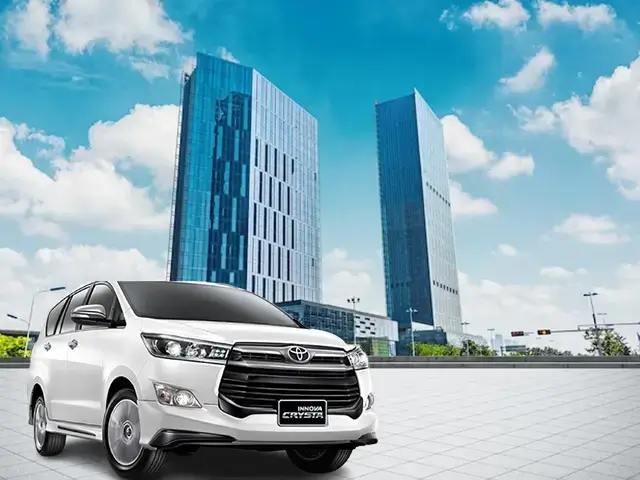 Innova Crysta Cab for Corporate Office: Unmatched Comfort and Elegance
At Nathkrupa Travels, we understand the importance of comfortable and elegant transportation for corporate needs. Our Innova Crysta cabs offer a premium experience, boasting spacious interiors, plush seating, and modern amenities. Travel to and from your corporate office in Pune with utmost comfort and arrive in style, setting the right tone for your professional engagements.
Corporate Cab Services in Pune: Your Trusted Transportation Partner
Navigating through the bustling city of Pune for corporate events or daily commutes can be a hassle. Nathkrupa Travels offers dedicated corporate cab services in Pune, designed to meet your specific requirements. Whether it's attending meetings, conferences, or airport transfers, our reliable and punctual cabs ensure that you arrive at your destination on time and stress-free.
Corporate Events in Pune: Let Us Handle the Transportation Details
Organizing a corporate event in Pune and need seamless transportation solutions? Count on Nathkrupa Travels to handle all your transportation details. Our fleet of Innova Crysta cabs is equipped to accommodate various group sizes, ensuring smooth and coordinated transportation for your corporate events. Focus on the event's success, and leave the transportation to us.
Business Events in Pune: Travel with Efficiency and Class
For every business event in Pune, efficiency and class in transportation are essential. Nathkrupa Travels provides a fleet of Innova Crysta cabs that exude professionalism and sophistication. Ensure your employees, clients, and partners travel to business events with ease, creating a lasting impression of efficiency and style associated with your organization.
Cab on Monthly Basis in Pune: Convenient Transportation Solution
For corporate offices seeking a reliable and convenient transportation solution, Nathkrupa Travels offers cabs on a monthly basis in Pune. Our flexible monthly packages are designed to provide consistent transportation to your employees, allowing them to focus on their work without worrying about daily commute challenges.
Taxi for Corporate Company: Priority Service for Your Team
When it comes to providing taxi services for your corporate company, Nathkrupa Travels ensures priority service for your team. Our dedicated corporate cabs are equipped to cater to your company's specific needs, making sure your employees travel comfortably and reach their destinations on time, every time.
Corporate Cabs Online Booking: Seamless and Swift Process
We understand that time is of the essence in the corporate world. That's why we offer a seamless and swift online booking process for our corporate cabs. With just a few clicks, you can book an Innova Crysta cab for your corporate travel needs, ensuring a hassle-free and efficient reservation experience.
Innova Corporate Office: A Symbol of Professionalism
Our Innova Crysta cabs represent the epitome of professionalism. Nathkrupa Travels takes pride in offering top-quality transportation solutions that align with the corporate world's standards. Traveling in an Innova Crysta enhances your corporate image and adds a touch of sophistication to your office transportation.
Nathkrupa Travels is committed to providing exceptional transportation solutions for corporate offices and events in Pune. Our Innova Crysta cabs epitomize comfort, elegance, and efficiency, ensuring your employees and clients experience the best in travel. Book with Nathkrupa Travels to elevate your corporate travel experience and leave a lasting impression of professionalism.
Contact Us:
We are happy to help you book your trip call us on +91 9623798119 or email us on booking@nathkrupatravels.com
Book Now