Nathkrupa Travels' 5 Jyotirlinga Darshan Package with Innova Crysta
Are you seeking a spiritual pilgrimage that transcends the ordinary? Nathkrupa Travels brings you an extraordinary opportunity to embark on a sacred journey to the Five Jyotirlingas, revered across the country. Our meticulously curated 5 Jyotirlinga Darshan Package with Innova Crysta ensures a seamless, comfortable, and spiritually enriching pilgrimage like never before.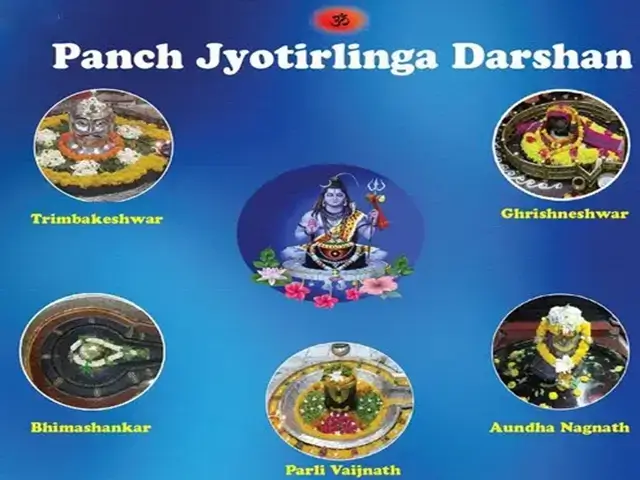 Exploring the Five Jyotirlinga Darshan in Maharashtra with Nathkrupa Travels
Embark on a spiritual pilgrimage like no other, as Nathkrupa Travels presents the sacred journey of the Five Jyotirlinga Darshan in Maharashtra. This pilgrimage takes you through the revered temples of Bhimashankar, Trimbakeshwar, Grishneshwar, Nagnath in Aundha, and Parli Vaijnath. Together, these Jyotirlingas form the Pancha Jyotirlingas, dedicated to the supreme deity, Lord Shiva.
Exploring the Sacred Pancha Jyotirlingas in Maharashtra:
Bhimashankar Jyotirlinga (Pune):
Begin your spiritual odyssey at Bhimashankar Jyotirlinga, situated near Pune in the Sahyadri hills. The temple's unique location amidst a lush green wildlife sanctuary adds to the divine aura of Lord Shiva.
Trimbakeshwar Jyotirlinga (Nashik):
Travel onward to Trimbakeshwar Jyotirlinga, nestled in the holy city of Nashik. Set against the backdrop of the Brahmagiri Mountains, this temple holds immense religious significance for Lord Shiva devotees.
Grishneshwar Jyotirlinga (Aurangabad):
Our spiritual journey then takes us to Grishneshwar Jyotirlinga, near the Ellora Caves in Aurangabad. This ancient temple is not only a place of worship but also an architectural marvel.
Nagnath Jyotirlinga (Aundha):
Next, we visit Nagnath Jyotirlinga in Aundha, Maharashtra. This sacred shrine holds a rich historical and spiritual heritage, drawing devotees seeking Lord Shiva's blessings.
Parli Vaijnath Jyotirlinga (Beed):
Conclude your divine pilgrimage at Parli Vaijnath Jyotirlinga in Beed district. Devotees flock to this temple to seek Lord Shiva's grace and blessings.
Why Choose Nathkrupa Travels for the Pancha Jyotirlinga Darshan?
Innova Crysta:
Travel in style and comfort with our top-of-the-line Innova Crysta. The spacious interiors and modern amenities ensure a smooth and enjoyable journey during your pilgrimage.
Professional Guidance:
Our experienced drivers and knowledgeable guides are dedicated to ensuring a safe and informative pilgrimage. They provide insights into the historical and spiritual importance of each Jyotirlinga, enriching your journey.
Seamless Organization:
From transportation to accommodations, we meticulously plan and organize every aspect of your pilgrimage. This allows you to focus entirely on your spiritual quest and devotion.
Customization Options:
We understand that every pilgrim may have specific preferences. Our package offers the flexibility to tailor the journey to suit your needs, providing a personalized and fulfilling pilgrimage experience.
Nathkrupa Travels invites you to embrace the spiritual essence of the Pancha Jyotirlinga Darshan in Maharashtra. Immerse yourself in the divine aura of these sacred temples, seek blessings, and rejuvenate your soul. Book your pilgrimage with us, and let the divine energy of Lord Shiva guide you on this profound spiritual voyage.
Book Now