Your Gateway to Comfortable Outstation Travel: Nathkrupa Travels Pune
Are you planning an outstation trip from Pune and seeking a reliable, comfortable, and convenient mode of transportation? Look no further than Nathkrupa Travels. We offer a premium Pune to Outstation Innova Crysta Cab service designed to make your journey smooth, enjoyable, and memorable. Explore distant destinations with ease and comfort, trusting Nathkrupa Travels as your preferred travel partner.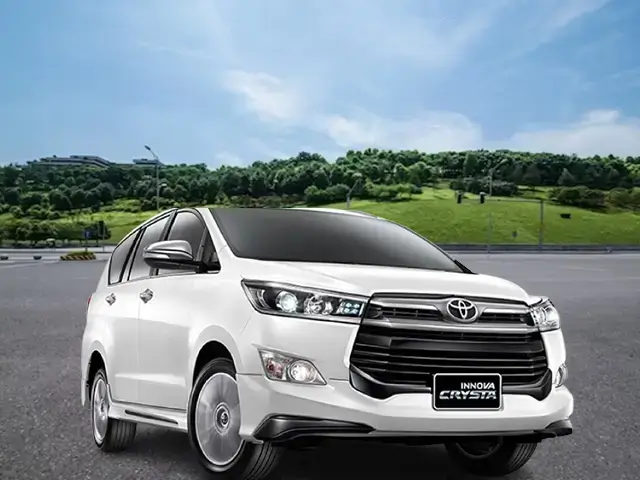 Pune to Outstation Innova Crysta Cab: A Luxurious Journey
Embark on a luxurious journey from Pune to various outstation destinations with our Pune to Outstation Innova Crysta Cab service. The Innova Crysta, known for its spacious and elegant design, provides a comfortable and smooth ride, making your outstation travel a truly enjoyable experience. Our well-maintained fleet ensures that you travel in style and reach your destination refreshed and relaxed.
Outstation Innova Crysta Cabs: You're Travel Companion
Whether you're planning a weekend getaway, a family vacation, or a business trip, our outstation Innova Crysta cabs are here to cater to your diverse travel needs. Our range of vehicles can accommodate different group sizes, ensuring you have the perfect travel companion for your outstation adventure. Experience the ultimate blend of luxury, comfort, and safety as you journey to your chosen destination.
Outstation Innova Crysta Cab Booking: Hassle-Free and Quick
Planning to book an Innova Crysta for your outstation trip? Nathkrupa Travels makes the outstation Innova Crysta cab booking process hassle-free and quick. Our user-friendly online booking platform allows you to reserve your cab with just a few clicks, providing you with a seamless booking experience. Alternatively, you can reach out to us for personalized assistance in securing your preferred Innova Crysta for your outstation journey.
Outstation Taxi in Pune: Discover the Unexplored
Unleash the explorer in you and discover unexplored destinations with our outstation taxi services in Pune. Whether it's the serenity of hill stations, the charm of beach destinations, or the rich cultural experiences of historic places, our outstation taxis are at your service to take you on memorable journeys. Enjoy the freedom to travel and explore at your own pace and convenience.
Outstation Taxi Service Near Me Pune: Convenience at Your Doorstep
Nathkrupa Travels brings the convenience of "outstation taxi service near me" to your doorstep. Our widespread network ensures that you can find our reliable taxi services within your proximity, making it easy and convenient to kickstart your outstation travel plans. Say goodbye to the worries of last-minute travel arrangements and embrace the ease of booking a taxi for your outstation trip.
Car Booking for Outstation: Flexibility and Choice
At Nathkrupa Travels, we believe in providing you with flexibility and choice when it comes to car booking for outstation travel. Our diverse fleet caters to different preferences and requirements, ensuring that you have the right car for your journey. Whether it's a sedan, SUV, or the luxurious Innova Crysta, we have the perfect vehicle to suit your travel needs.
Outstation Innova Crysta Car Rental: Unmatched Comfort and Style
Experience unmatched comfort and style with our outstation Innova Crysta car rental service. The Innova Crysta is equipped with modern amenities, spacious seating, and a powerful engine, ensuring a delightful travel experience. Revel in the luxury of traveling in an Innova Crysta as you explore new destinations and create lasting memories.
Outstation Cab Service: Your Reliable Travel Choice
For a reliable and efficient outstation cab service, Nathkrupa Travels is your trusted choice. We prioritize customer satisfaction and safety, making sure you have a seamless travel experience. Our professional drivers, well-maintained vehicles, and commitment to punctuality contribute to a journey that is both enjoyable and stress-free.
Car Hire for Outstation: Tailored to Your Journey
Tailoring the car hire experience for your outstation journey is our specialty. We understand that each trip is unique, and our car hire for outstation service allows you to customize your travel plan. Choose the car that suits your group size and preferences, ensuring a comfortable and enjoyable journey to your desired outstation destination.
Taxi Booking for Outstation: Your Easy Travel Solution
Booking a taxi for outstation travel has never been easier. With Nathkrupa Travels, you can swiftly book your taxi for outstation trips through our online platform or by reaching out to our dedicated customer service. We prioritize your convenience and aim to provide a seamless booking experience, allowing you to focus on your upcoming travel adventure.
Best Innova Cab Service in Pune: Your Travel Excellence
Nathkrupa Travels takes pride in being recognized as one of the best Innova cab services in Pune. Our commitment to delivering excellence in travel, ensuring customer satisfaction, and maintaining the highest standards of service sets us apart. Choose us for a remarkable travel experience, as we strive to provide you with the best in class service for your outstation journeys.
Looking for the best Innova on rent in Pune? Look no further! Nathkrupa Travels offers top-notch Innova rentals in Pune, ensuring a comfortable and reliable travel experience. Book now for a seamless journey.
Contact Us:
We are happy to help you book your trip call us on +91 9623798119 or email us on booking@nathkrupatravels.com
Book Now